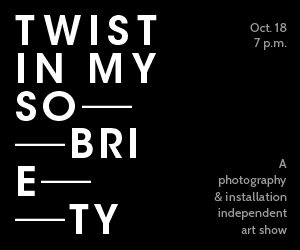 Twist in My Sobriety is an art show named after the eponym song (slow edit by Krach below) featuring nine Berlin artists from the 18th till the 20th of October. Vernissage on the 18th at 7pm with DJ sets by Yasmin Gate, Plateau Repas and AC Casey, photography and installations on two floors in the giant Mitte building of Kaufhaus Jandorf by Alexandra Jasper, Allison Halter, Enrico Nagel, Herr Müller, Jen Osborne, Lisa Wassmann, Phntm Beach, Planningtorock and Valquire Veljkovic.
This is one of the very few public and free events at Jandorf, a chance to see the beautiful space filled with multi-disciplinary art by some Berlin heroes such as Planningtorock, Herr Müller or Lisa Wassmann and new-comers.
Organised by the artists and Your Mom's Agency in partnership with Bechstein Network, Dev01ded, BerlinPieces, Wrangelkiez and UpperOrange.
See the opening's pictures HERE and the press coverage HERE.