x Digital Music Creation from Beirut to Berlin at BIMM, with Elyse Tabet and Anthony Sahyoun
About the artists: Elyse is an AV live performer and expert technician, DJ, arts instructor in higher education, community activist, and co-founding member of Beirut Synthesizer Center. Follow her on Instagram and discover her live set.
Anthony is a guitar and electronic musician, composer for films and installations, producer at Tunefork Studios, and programmer of new acoustic elements electronic processor to be premiered at the Beirut x Berlin residency.
In this masterclass by Beirut creatives Anthony Sahyoun and Elyse Tabet, you will hear about the electronic music scene in Lebanon and the Middle East, plus connections to Europe. The two artists will also introduce their digital music creation practice including synthesis, field recording, use of sample and effect librairies such as Orchestral Tools' SINE player or the Loopmasters platform, plus some tips on acquiring tools and content on a budget for your own pro or beginner studio.

x Synthesis, Werkstatt Building, and Jamming at Moog Berlin HQ 
Elyse, Anthony, and the Berlin Moog crew will build some iconic Werkstatt units together with a few lucky mentees, dive deeper into the world of synthesis, and finish the program with a live improvised jam on April 8 from 7 to 9PM.
→ Write us to receive your invite: info @ yourmomsagency.com.

x Soundpack Creation
The cat/rat/bat/mosquito equilibrium plays a role in the daily life of both Beirut and Berlin, whether inhabitants notice it or not, and with different ratios and results in each city. Urban ecologist Julia Lorenz mapped urban bats in Berlin with the help of citizen scientists. She works at the Natural History Museum at the Citizen Science Competence Center and in her free time she offers bat watching tours and records bats in various settings of the city such as parks, forests or the city center. She gifted some of her audio findings to BxB artists who will use them in their live shows, while Elyse decided to build a collection of sounds based on the bats' recordings.
→  This soundpack will be available in open source on our partners' platform in summer 2022.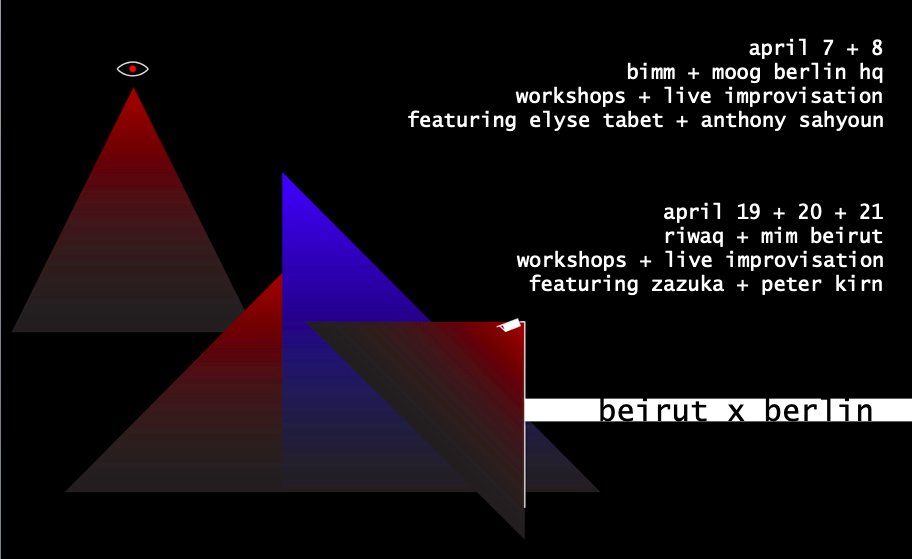 x A Dive Into Sounds and Samples with Zeina Azouqah
About Zeina aka Zazuka: performer, soundpack specialist for Orchestral Tools, Native Instruments, and Steinberg, producer, film scorer, and music teacher in English and Arabic.
Over the course of three half-day workshops, Zeina Azouqah will guide you through using the free sample instruments (incl. Orchestral Tools and Native Instruments) to make music in your DAW. She will also demonstrate a method of how to edit recorded samples and create a basic sample instrument.
Day 1: introduction to composing in-the-box with MIDI instruments. We go through basics of the players we've downloaded before the workshops and setting up templates for composing on-the-fly. Listening session for some examples of what is possible with completely sampled orchestral/acoustic instruments as well as combinations of real and virtual instruments.
Day 2: Part one: continuing exploration of advanced settings in SINE player and mixing tips. Part two: editing and processing samples to creating a sample instrument.
Day 3: attendees will get a chance to apply their knowledge to make their own compositions or making sample instruments and presenting the results at the end of the session.
→ To fully participate, bring your charged laptop with a compatible DAW already installed (Logic, Cubase, StudioOne, Ableton, etc.), then download and install free software: www.native-instruments.com/en/products/komplete/bundles/komplete-start, https://orchestraltools.helpscoutdocs.com/category/314-about-sine & www.orchestraltools.com/store/home. You can also simply attend without gear if you wish to.
→ April 19, 21, and 21 at Riwaq Beirut, 12pm to 3pm (times TBC on the 21st).
Entrance to the workshop is free, if you have questions, email info @ yourmomsagency.com.


x Creative Instability with Peter Kirn
About Peter: founder of famed blog CDM, mentor at CTM hacklab, electronic producer and performer, music tech speaker/lecturer/writer.
Discussions of electronic music making often focus on maximising predictable outcomes – how to create stable sounds, ordered patterns. But it's often disorder that we want to play. Producing an unstable system means that a simple knob turn can produce a wider variety of sounds – and allow us to tap more deeply into our intuition, in a cybernetic loop with our machines.
Here, we'll talk about some ways to produce that kind of instability, even with minimal resources, in sound design, modulation, and patterning. We'll try some hands-on cases with free software (desktop + mobile), hardware examples from my live rig with Elektron hardware (digitakt + model:cycles and model:samples), and even consider some inspiration from the non-electronic, natural/acoustic/mechanical world.
→ To fully participate, bring a notebook computer, a smart phone or a tablet, any OS. Remember to charge your device at home, bring your own wifi hotspot if you can. You can also simply attend without gear if you wish to.
→ April 19, 20, and 21 at Riwaq Beirut, 3.30pm to 6.30pm (times TBC on the 21st).
Entrance to the workshop is free, for questions email info @ yourmomsagency.com.
→ RSVP: www.facebook.com/events/948183969218403/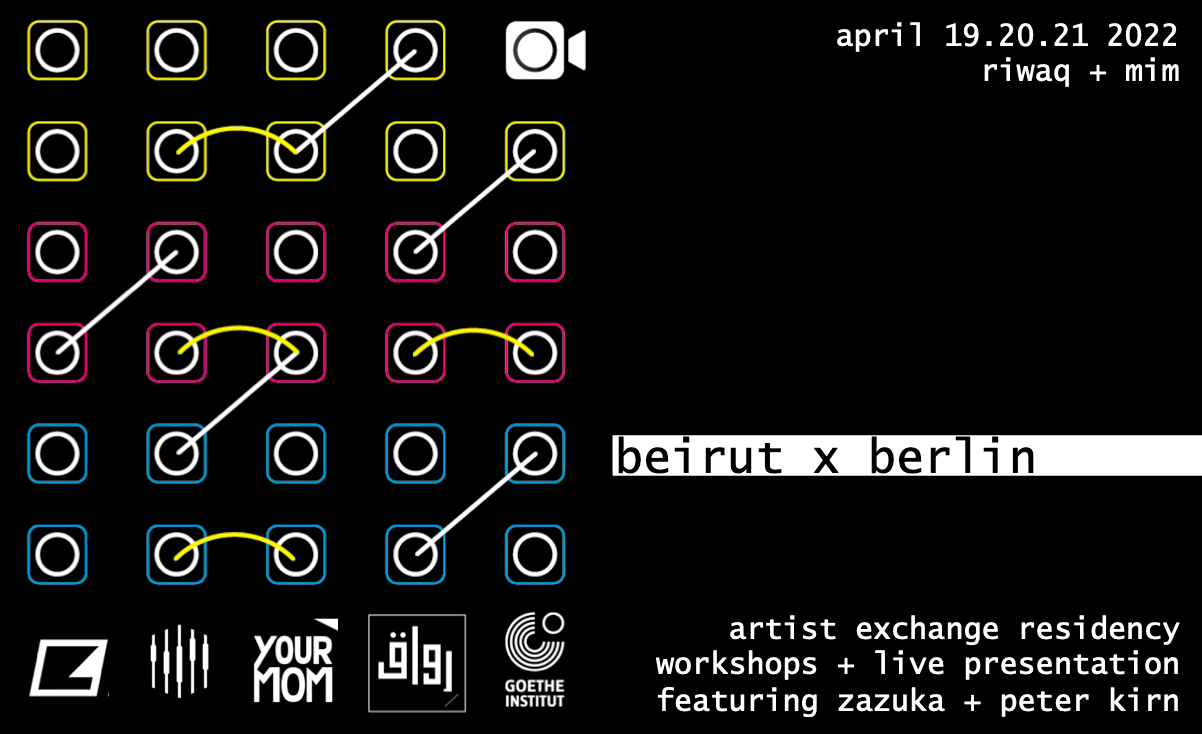 x Live Improvisation Concert at mim
Join us for the second Beirut x Berlin residency exchange show featuring Zazuka and Peter Kirn. Both Berlin-based artists will present a new electronic music piece created during their residency in Beirut.
Guests will be invited to explore the beautifully curated collection of minerals of the museum while listening to the two short live pieces.

Zeina Azouqah aka Zazuka is a Circassian performer from Jordan, soundpack specialist producer, and film scorer. Her body of work evolves between her sometimes grave, sometimes uplifting piano playing, singing in several languages, and electronic wanderings. For this show, moving through different soundscapes with sounds from the natural and synthesized worlds, Zazuka will transform the tradition of storytelling through songwriting in a new meditative and expansive form.

Peter Kirn is the American of Lebanese descent founder of famed music technology blog CDM, and an electronic producer and performer, with a passion for all things connecting music and tech, always leading him to explore new techniques in his own music practice. Guided by machine learning and echolocation, Peter's museum performance dreams of finding a way through darkness in all its forms, seeing anew through sound, and even fumbling and clicking our way back to restoring lost sight.
→ Complimentary entry to museum exhibition and concert from 4.45PM (with mask), live music from exactly 5 to 6PM on April 21.
This event is presented by Riwaq and Your Mom's Agency in partnership with mim, the Goethe-Institut, Elektron, Moog, and Orchestral Tools. RSVP: www.facebook.com/events/1130461691125155/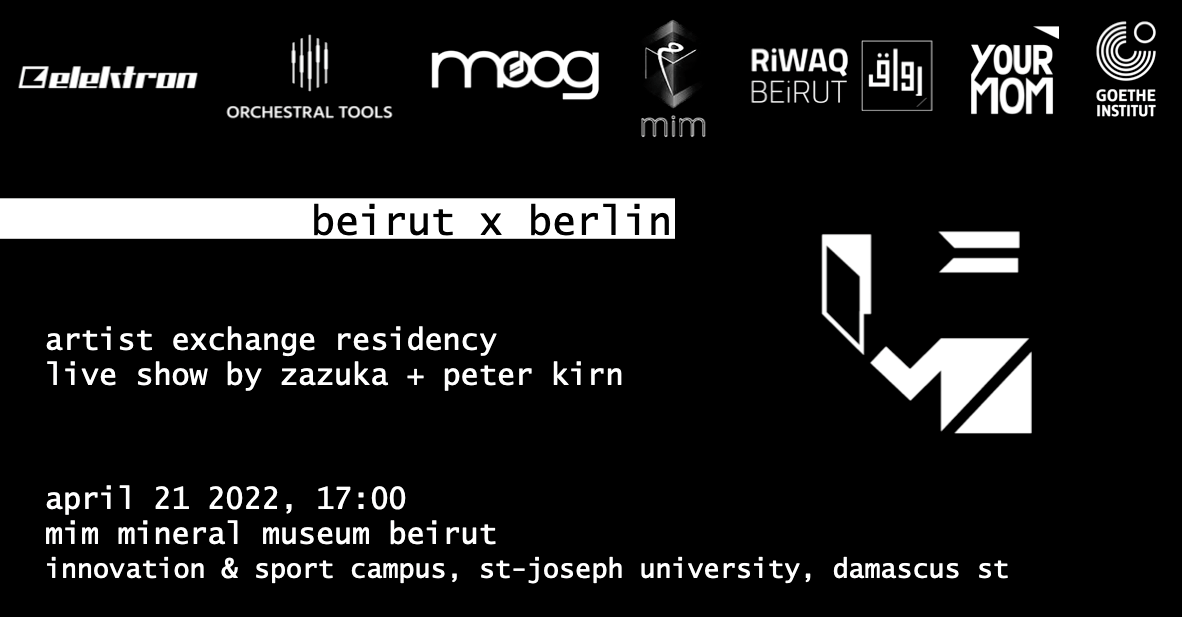 x Aftershow at Riwaq
DJ sets by Peter Kirn and Almevan (Discordance), iconic figure of the queer techno scene of Marseille, and Your Mom's guest to the Beirut x Berlin project to start thinking about taking the Beirut x Berlin concept on the road. More sounds by Almevan on Soundcloud.
→ Complimentary entry for all, music from 7PM.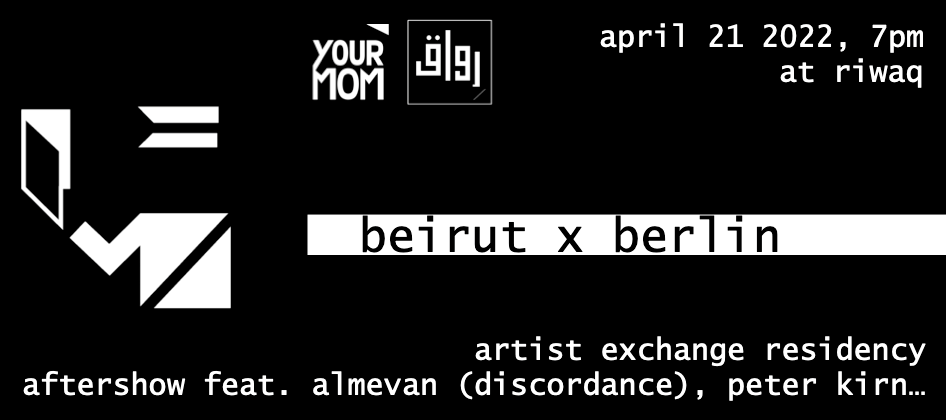 Flyer illustrations by @sndtxtimg