Increments is an installation/performance by Kata Kovács and Tom O'Doherty. Existing at the intersections of sound art, installation, and performance, the piece will premier on November 6th and 7th at Ausland Berlin in Prenzlauer Berg, as part of the Place Rhythm. Pulse series, curated by Gretchen Blegen.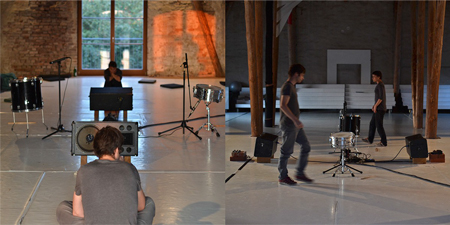 The process at work in Increments involves both artists repeatedly layering and recording drum sound and room tones in a work of layered repetition which pays homage to the work of composer Alvin Lucier. The piece, which develops over the course of five hours, invites attendees to experience a transition from sparse, clear sounds into a dense soundfield of rhythm and feedback tones, and to immerse themselves in enveloping sound. Increments has been developed with the support of L1 Association (Budapest), Ponderosa (Stolzenhagen) and Ausland (Berlin).
Read more about Increments on Aus Land Berlin and The Berlin Agenda.