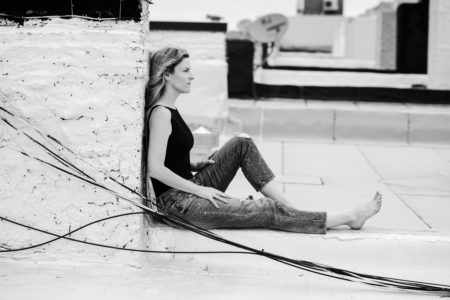 Anna Cavazos is a DJ, producer and vocalist living between Los Angeles, NYC, and Berlin. Her love affair with house music began in 2001 when she started spinning records at underground clubs in NYC. She then began producing her own music after featuring as a vocalist and songwriter in tracks with Sandy Rivera, Bah Samba, and Steve Mill among others, she began producing her own music. Her discography is a sundry of originals, collabs and remixes, including work with world renowned talents such as Satoshi Tomeii or Eli Escobar.
Her skills have taken her worldwide, appearing at clubs such as Cookies with M.A.N.D.Y., Buddha Bar, Chalet, Club Yellow Tokyo, Le Baron, Les Bains, Macarena Club, Pacha, Ritual Club, Room 26, Soho House, Suicide, etc.  She moved from NYC to Berlin in 2014 where she collaborated with local artists Max Joni and Alley O on songs that garnered the attention of Damian Lazarus, MK and several other high profile acts. Whether she's creating originals with production partner Sam Haas, or polishing groovy dance numbers in her solo works, Anna always captures the crux of house music, expertly morphing musical visions into her trademark sound.
Her music has been released on King Street Sounds, Madhouse Records, What Happens and has recently been licensed by house giant Defected Records. As a DJ, she exudes fun loving energy and has an unmatched style. Performing globally for over ten years, Anna is technically consummate and delivers an array of Chicago, Berlin and New York influenced house music. She has appeared live on dublab, BBC Radio, Ibiza Global Radio, FC Radio, Bloop London, and Berlin's Reboot FM and her collabs have been featured on 6am and XLR8R among other outlets, you can listen to recent releases such as her solo EP on YesYes Records or featuring Sam Haas on her own imprint Little Giant Records.
Following her release from fall 2019 as a 12″ vinyl entitled Persephone with remixes from Evren Furtuna, DJ Jauche, and Pete Moss, DeepStitched Records picked her track Grooving for their new compilation Getstitched Vol.3 released early 2020 and invited her to remix Deeperteque's Reckoning track; at the same time Anna held a residency on Deepin Radio.
After a creative break and some studio time, Anna comes back in 2023 with a new vinyl EP release on Little Giant titled Love Interlude, featuring remixes by Mathias Vogt, Rick Wade, and Rissa Garcia.
       WEBSITE     FACEBOOK     IMAGES     TECH RIDER     BOOKING FORM