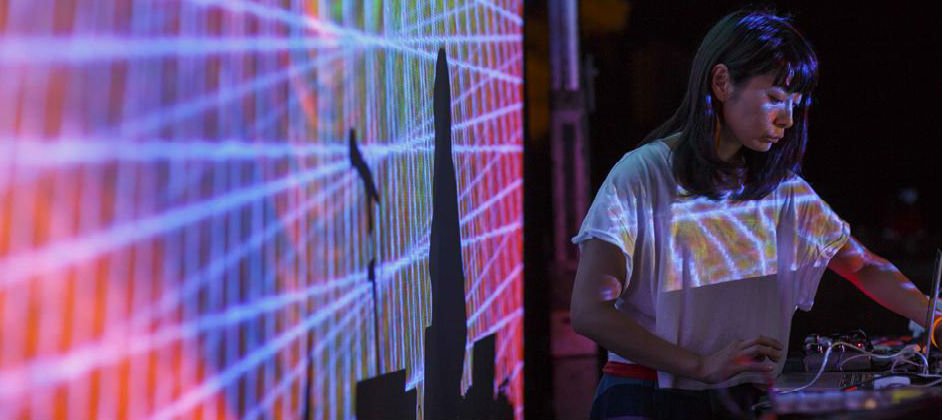 Kyoka is a Japanese electronic producer, installation artist, live performer, and DJ based in Berlin, with a unique art techno sound, exploring the audio space between music tech, field recording, dancefloor beats, and other experimentations evolving with her interests and the seasons.
Kyoka has presented live performances, DJ sets, installations, and show scoring at Berghain, the Centre Pompidou in Paris, CTM in Berlin, Moogfest, Mutek Montreal/ Tokyo/ Barcelona, Sónar in Tokyo, The Warhouse Project curated by Aphex Twin in Manchester, and many more in 94 cities in 31 countries between 2012 and 2022, with a new Mutek tour in 2023, plus educational segments at Brown University, in Copenhagen, Gothenburg, Shenzen, Zaragoza, etc., and in 2023 at the Venice Biennale.
Kyoka first released her EP ISH in 2012, followed by the album IS (Is Superpowered) in 2014, a production that stands out for the use of the composition with different field recordings and drum machines, and SH in 2016 including her famed track Hovering – on famed label Raster-Noton, also home to Ryuichi Sakamoto and William Basinski. Another notable release is the single Spoiled 130BPM via her own Bandcamp in 2020, later remixed by Nomadico (Underground Resistance) and Kosmik in 2022.
On the press front, Kyoka has been featured in Attack, Boiler Room, CDM, Dommune, ID, Mixmag UK, MENA, and Asia, Resident Advisor, Vogue, Wire, and the documentary RAW CHICKS.BERLIN among many other outlets. She has also collaborated with brands such as Ableton, Apple, Elektron, Orchestral Tools, Puma, and Shure to name a few.
Looking forward to 2023, Kyoka will pursue her studies of neuroscience, music theory, and composition, and further her collaborations with Moog and the Venice Biennale, while getting ready for new releases.
INSTAGRAM    RA    WEBSITE    PICTURES     BOOKING FORM