From September 29 to October 2, Olympia Bukkakis & The Darvish from Queens Against Borders and Your Mom's team up with Grinderteeth, Hyenaz, and Simonne Jones, under the patronage of Berlin Projektfonds Kulturelle Bildung, for four days of workshops and mentoring to learn about the art of drag, from costume and makeup, to performing live, producing or DJing your soundtrack, setting up the stage, sound and lights… the whole ending with a public drag performance where Pop and Experimental music, traditional drag and current trends, Western and Middle Eastern aesthetics clash and finally come together for a different kind of drag show experience.
The free workshops are open for 14 folks, 18 to 27 years old, of all genders, nationalities / status (including refugees), and physical abilities, application via Facebook, or write in English, German, French, Polish, or Arabic to queensagainstborders @ gmail.com
Workshops take place daytime at Zeitzone and Acud, the public show at Acud October 2 from 7PM (free entry, donations welcome), RSVP HERE.
Acud feature HERE, Instagram recap video HERE, show pictures HERE, mini reportage video below: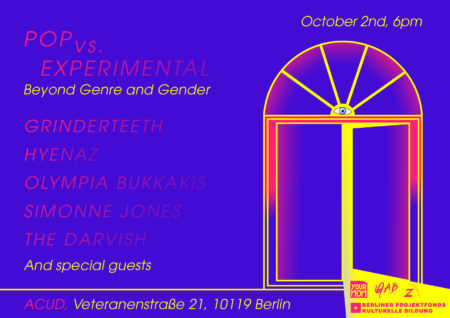 Illustration and graphics by Opashona Ghosh and tom.singier.net.