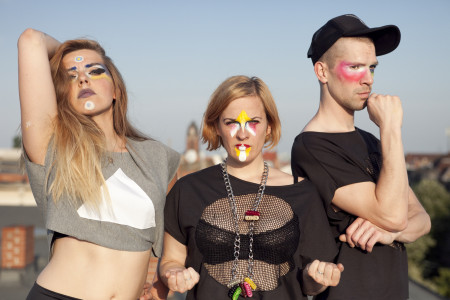 Plateau Repas are Valentin Plessy, Fleur Helluin and Magritte Jaco who also pursue their own solo visual arts and DJ careers. The Berlin-based French trio digests music from all backgrounds without chewing and suffer of an acute obsession for corny eurodance, old-school hip-hop and 90s dance music; they compose and write everything all together on a computer and then give it pure body energy on stage. After releasing their first EP Hardcore Luv (which sold out in a few months) they released their maxi single Vampire in 2010 on the label Madame Visage. The motto, of the band is to shake your booty and sweat it right!
Plateau Repas have performed all over Europe (Showcase, La Flèche d'Or, Point Ephemère, Les Disquaires in Paris, SO36, Festsaal Kreuzberg, Magnet, Bar25, White Trash Fast Food, Bassy Cowboy, Monster Ronson's, West Germany, Kater Holzig, Golden Gate and Lux in Berlin, and venues in Brussels, Luxembourg, Geneva, Warsaw, Prague and Hamburg. The band are releasing their new album in 2016 and will be coming to you soon for one of their iconic "sweat or die" live sessions!
FACEBOOK     TECH RIDER     IMAGES     BOOKING FORM
Download a free remix album HERE.