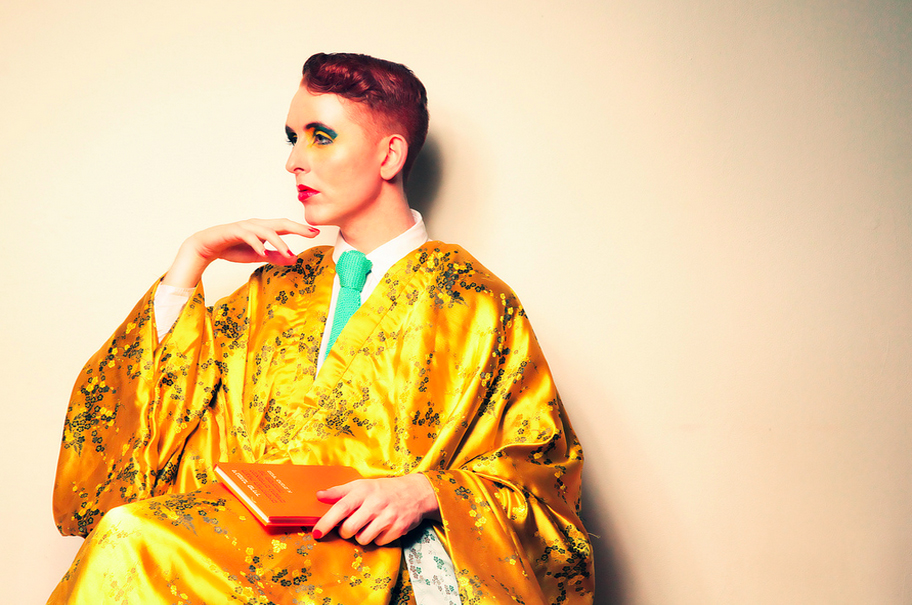 Since unveiling his debut streaming-only EP Dandylioness in 2011, morose disco-soul singer Alexander Geist has carved himself  a unique international career, straddling the divide between live art and the dance floor. As BUTT magazine wrote, "his short but startling career has made him a cult hit in much of Europe's underground." He has garnered considerable attention, including three magazine covers for Siegessäule (Germany), Du und Ich (Austria) and Dance Theatre Journal (UK), in addition to interviews on Resonance FM, NPR, and an appearance on the infamous TV show, Die Schaumschau. He has performed at iconic events internationally, including Berliner Festspiele, TorStr Fest, Martin Gropius Bau, and the Museu de Arte Contemporânea de Niterói (Rio), La Java (Paris), and Casa da Musica (Porto), to name just a few.
Released in 2012 on Haute Areal, his debut single Bad Language, drew favourable reviews from Noisey and Electronic Beats winning the track international airplay on radio stations from the UK to Japan, and leading to the Berliner Zeitung calling him "a disco-soul debutante already much loved for his erotic moodiness." Geist toured in support of the release, playing diverse venues: galleries, hotels, sex clubs, cabarets, pubs and cinemas across the continent, traveling from Berlin to Lisbon, via Paris, London and Rome, showcasing a charismatic stage persona.
Geist released his second single A Woman´s Right to Choose in 2013, cementing his reputation as an icon for the continental demi-monde. On the back of this success, Alexander was picked to play at the opening of the David Bowie retrospective at Martin Gropius Bau in 2014.
2015 saw him release his third single Malediction on New Pangea records, with a beautiful one-shot video accompanying it. To celebrate the single, he undertook his most extensive tour to date, performing in London, Rio, Berlin, the Netherlands and France.
In 2016, just before playing live at Germany's first international queer music festival Yo Sissy! at S036, Geist collaborated with Ming Wong and Bendik Giske during Art Basel in Hong Kong to release a single and video That Girl commissioned by Art Review and UBS.
Early 2018, after some extended international touring and some projects linked with theater, opera and cabaret, Alexander Geist collaborates with Ben Jackson to release Far Worse, a gabber, donk and pop-inspired production alongside video artist Fritz Schiffers' lo-fi application to footage of Folsom Europe's leather and BDSM event. The single was featured on the Peak Shame compilation from Wicked Hag.
With spring 2019, came Alexander's first solo release on Wicked Hag and sixth single, Any Instant Whatsoever, which was recorded in Costa Rica then mixed and produced by Geist collaborator Philip Cornett in the UK. In December of the same year, Geist revisited his track Transparent, which was released on cassette tape also by Wicked Hag featuring a remix by Molly Nillson, with videos and reviews on Berlin in Stereo and High Snobiety.
"Succulent disco-pop…this bad boy´s got soul" – Electronic Beats
 "The new boy-hero of pop has emerged" – Noisey
 "Bracingly glacial, poutily poignant" – Time Out
"A genre pushing queer act" – The Quietus
"Below the candy surface Alexander demonstrates a smouldering intelligence and artistic commitment of great substance." – Clyde Fitch Report
"Berlin's daring darling" – ExBerliner

FACEBOOK   WEBSITE   PRESS   TECH RIDER   IMAGES   BOOKING FORM
ALEXANDER GEIST