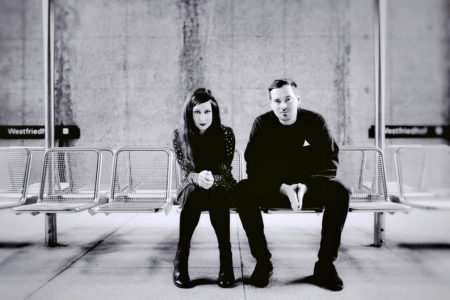 Berlin-based DJs and couple Brax Moody (Munich) and Vamparela (Thessaloniki) have been collaborating since 2007, either as a DJ duo, in bands, or as remixers and producers. Merging the rhythm and dynamism of Munich's hip-hop clubs with the grime and attitude of Thessaloniki's back-alley indie bars gives an idea of how to categorize Local Suicide: a straight-up energetic fusion of new wave, slow techno, post disco, and acid house, or as they like to call it "technodisco".
As DJs they've played all over Europe, Asia, North Africa, South America and the US with gigs at Lollapalooza, Melt!, Amsterdam Dance Event, Off Sonar, Reeperbahn, Berlin Festival and almost every club the German capital has to offer while holding down day jobs in the music industry and running a successful independent music and lifestyle blog.
Having organized parties, festivals, and moderated radio shows for years, Local Suicide are just as much at ease inside the booth as they are outside. Mid 2014 saw them release their debut single We Can Go Everywhere on Bordello a Parigi alongside remixes from In Flagranti, Richard Rossa and Inigo Vontier. The release has been supported by XLR8R, Thump, DJ Mag, Mixmag, De:Bug amongst many others. Owl & Wizzle, produced with Rodion in his vintage synth studio in Berlin and featuring Mz Sunday Luv on vocal duties was released mid 2016 on Multi Culti's first compilation after being premiered on Thump. It quickly reached the top 30 Beatport Indie/Nu disco charts and was heading the Juno balearic/downtempo charts for a month. Later in 2016 the duo released a remix for Digitalism (also co-produced with Rodion) on PIAS Cooperative. Early 2017 a remix by My Favorite Robot of a track by Rodion & Local Suicide was released on My Favorite Robot Records' annual winter compilation which got praised by DJ Mag (7,5/10) and FAZE Mag (9/10) among others. Mid 2017 the duo released another 12" EP with Rodion on My Favorite Robot Records with remixes by Moscoman, Fairmont and Los Mekanikos which got reviewed by the likes of DJ Mag UK (8/10), Faze (8/10), Groove, Mixmag UK (8/10), DJ Mag Italy (7,5/10), and Groove. It also got added to Spotify's 'Fresh Finds' playlist and entered the Beatport top 30 sales charts.
In 2018 they not only released an EP with Mexican producer Mijo via Roam Recordings including remixes by Sascha Funke & Simple Symmetry, but also another collaboration EP with Curses of four original tracks on Tusk Wax as well as a track with Rodion on the Second Gathering (the Sisters & Brothers mini compilation curated by Kaspar Bjorke & Sexy Lazer) via HFN Music. Never ones to rest on previous success, Local Suicide kicked 2019 off with a collaboration with Theus Mago that came complete with two remixes, courtesy of Aera and Colossio. Later in the year, the duo released Leopard Gum EP feat. Nicki Fair on Chloè's Lumière Noire (features on Living Techno, Tsugi, and more) and another remix EP through a collaboration with Skelesys on London label Snap, Crackle & Pop, they were also caught in a public TV appearance.
2020 started with a two originals plus three remixes EP, Dominator/Crocodile, released on Hold Your Ground with Kalipo, premiered by Minitel, The Ransom Note, and Dancefloor Romancer.
FACEBOOK     WEBSITE     RELEASES    TECH RIDER     IMAGES     BOOKING FORM