Broader MENA/WANA Region artists have been exchanging with the West, especially Germany, since the beginning of recorded music in terms of business, and since forever in terms of musical influences. The exchange has never stopped, some artists like Nicole Moudaber or Omar Souleyman have reached global fame, and here some hand-picked familiar names in Berlin across diverse genres: 6zm, Ah! Kosmos, Bana Haffar, Dystopic Symptoms, Hanin Elias, Khadija, Mentrix, Peter Kirn, Rasha Nahas, Samo Rane, Sarah Kivi, The Darvish, Wizzy, and Zazuka, all showcased in Berlin's Habibis. And we also had the occasion to curate some MENA artists' participation in a digital show by the Goethe-Institut Gulf including WYWY and The Finches on top of some of the above names.
► In 2022, YMA and Riwaq join forces to launch residency exchange program Beirut x Berlin, and WFMU Radio aired a special experimental and ambient mix featuring Hani, King Woman and many more.
► Visit Love, Labour, Leisure, the web exhibition hosted by the Goethe-Institut Gulf, Music in Exile section curated by Nadia Says at YMA. Onsite exhibition opening on Dec 13, 2021 in Dubai at Warehouse 51.
► Check out Beirut Synthesizer Center / @beirutsynthcenter whose team gave a workshop about getting into modular synthesis for our EXP__ platform, and listen to some EXP__ winners including Tammy Lakkis, Mentrix, and 6zm – whose EP Dots was reviewed on Resident Advisor.
► Discover the video and podcast from our DJing and production workshops in Dubai with Simonne Jones and Justine Perry HERE.
► Re-visit Pop vs Experimental to see how pop and experimental music, traditional drag and current trends, Western and Middle Eastern aesthetics come together for a different kind of participative workshop and drag show.
► Tune in dublab for the Berlin's Habibis show and listen to Elyse Tabet, Yha Yha, Prïss, Verdult, Leila Moon, and Berlin's Meltdown in the archive, plus WFMU's MENA garage and experimental show, and Reboot FM's archive with Anthony Sahyoun, Victoria Kasar and our Berghain audio souvenir with Peter Kirn – whose music tech blog CDM features lots of ME and Lebanon electronic music news.
Get in touch to receive more artists' links and suggestions for live shows, DJ sets, and conference bookings.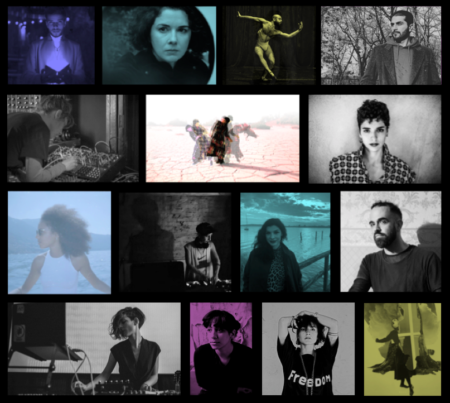 Berlin's Habibis' illustration by Hala Ghatasheh, radio show archive HERE.