For the first year of Y!S in 2015, we organised a photobooth, the second year in 2016, we came to the party with Simonne Jones, UhOh, Ballet School, Plateau Repas and Noblesse Oblige all live – photos and mixes below.
This year, we bring Mary Ocher + Your Government to the festival stage at Festsaal Kreuzberg for their brand new live show… and we can't wait to see Mikey, Shaun J. Wright, Gurr and so many more.
We also bring a music production workshop for beginners with Native Instruments, and two industry panels "Sell Records, Don't Sell out" and "Space für Alle",  featuring Ocher, Neda Sanai, Simonne Jones, J. Wright, Sky Deep, Viva Ruiz and Dreea, all during the free Saturday afternoon of the festival's market place with queer art/fashion/craft vendors, F&B, free STD-testing, drag shows, and DJ sets.
Get your festival ticket HERE, join the free press event at Moxy Hotel HERE, and the free Market Place on Saturday 29th at Festsaal HERE.
And in the meantime, start the party with Reboot FM's episode of Your Mom's on the Radio Special Yo! Sissy energy mix.
Recap video HERE.
Inquire about artist bookings, or workshops and panels for your event HERE.
► ◄ ∴ ∵ ◥◣▲▼ ▽ △ Δ ∇ ⊿ <> ◊ ◆ ♦ ►  YO! SISSY II ◄ ∴ ∵ ◥◣▲▼ ▽ △ Δ ∇ ⊿ <> ◊ ◆ ♦
The second edition of  YO! SISSY took place in July 29-31, 2016 in Berlin, we were happy to book and see perform: Ballet School, Simonne Jones, UhOh, Plateau Repas, and Noblesse Oblige all live at Postbahnhof and Music & Frieden.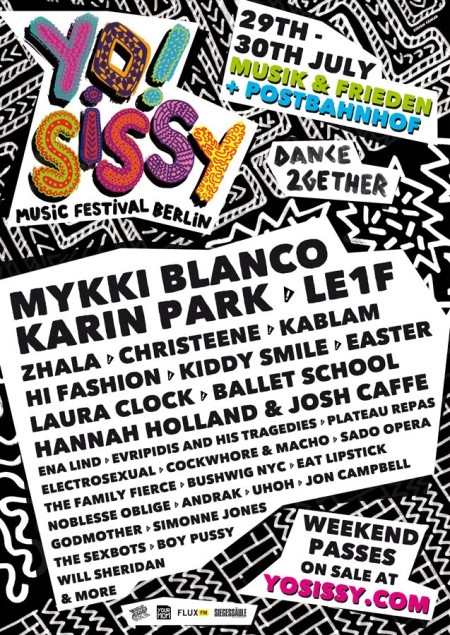 ► ◄ ∴ ∵ ◥◣▲▼ ▽ △ Δ ∇ ⊿ <> ◊ ◆ ♦ ►  YO! SISSY I ◄ ∴ ∵ ◥◣▲▼ ▽ △ Δ ∇ ⊿ <> ◊ ◆ ♦
YO! SISSY 2015 was the queer music festival Berlin has been waiting for. Taking place in July at several unique venues across the city, like SO36 and SchwuZ, YO! SISSY bridges the gap between the burgeoning local scene and established, international artists, while focusing on promoting diversity within its performers, specifically female and trans.
With over 50 acts from 15 different countries, including Alexander Geist, Black Cracker, CHRISTEENE, Dreea, Eric D. Clark, Hyenaz & Snax, the festival was clearly one of this year's musical highlights.
As our July's podcast, DJ/producer/vocalist Snax prepped a mixtape that features a wide variety of electronic music and showcases all the other artists playing at the festival.
We also had the pleasure to interview the one and only CHRISTEENE in the shower of SO36 right before her extraordinary live show! Find full interview and pictures on Fourculture HERE.
For the second day of the festival, we built up a photobooth inside of Neue Heimat to capture all the glam and magic the visitors and the artists had to offer! All pictures taken by Sven Gutjahr. See more images HERE.