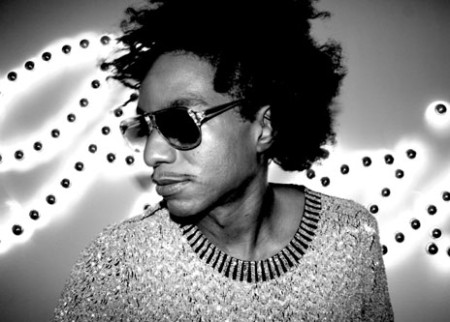 "Before 'vinyl only' became a distinction, before using a Roland 303 bassline 'incorrectly' was da s–t!, even before most of today's clubbers were yet to be born; Eric D. Clark was there in full effect. In parallel to the track From Disco to Disco traveling the world, Eric has pieced together a music legacy from classical to house, with the click of a mouse, soon spanning four decades. You never know what you will get when Eric is at the helm, his sets span multiple genres incorporating his unique live vocal style plus on occasion live keyboards over the tracks."
From Disco to Disco, from piano to electro and more: Eric D. Clark started his DJ career 40 years ago. From Sunday church performances in California at the age of 10 as a classical and gospel piano prodigy to disco and electronica keyboard mastering, Eric trained his ears and hands until 1981 when he finally claimed his place behind turntables and took up residencies in San Francisco's most famous clubs including The Underground, Das Klub, and The End Up.
Six years later, Eric integrated the Parisian night life and played in an eclectic array of venues: galleries, straight and gay clubs, as well as early soul, break-beat, and jungle raves…  By the early 90's he started to regularly visit Germany on the look-out for new "underground" dance music. Soon his Whirlpool Productions trio with Justus Köhncke & Hans Nieswandt was born and took the European scene by storm, especially Italy, with hits such as The Cold Song and From Disco to Disco. Eric then began to explore other opportunities with solo releases including Fur Dancefloor on Ladomat and collaborated with numerous musicians including Mandel Turner, Tyree Cooper, Army of Lovers, Tiefschwarz, The Aikiu, Chicks on Speed, Angie Reed, Chaka Khan, TLC…
In 2007 after releasing E=dC² on Firm Recordings, Eric unexpectedly became a professor, teaching at The Stædel School for Visual Arts in Frankfurt alongside writing for Spex. 2014 marked Eric's debut as a curator in Oslo's Demons Mouth gallery, and he pursued this endeavour in Berlin in a private gallery in his studio, and later started producing an E.D.C. column for Starship Magazine, and the introduction to the screening of Sun Ra's Space is the Place. Eric has also sat as a judge at the International Film Festival in Oberhausen where he had previously won an award for best music, he has acted in several art films, has been seen as a highlight speaker at MI (Musicians Institute) in LA, Art Cologne, MW:M and at CTM's Hacklab among other events and conferences. Eric is also involved with fashion as a stylist and with fashion labels campaign scoring for Fila, Chanel, Moncler, and Louboutin – and in 2023, Pamela Anderson and Naomi Campbell walked to From Disco to Disco for the Hugo Boss show in Miami. He also scores and does sound-design for movies or theatre projects such as Antigone starring Melissa Logan, or Just Tell No One at the Lincoln Center.
Eric D. Clark has played in Europe, Asia, South America and the USA in venues such as Panoramabar (live) & Ostgut, Tresor, E-Werk, Maria, Weekend, Echoplex, Ace Hotel, Soho House, several celeb events including Frieze Magazine launch, MTV Beach Party in Uruguay and Audiotool & Adobe events in LA, other majors events such as Italian and German Biennales, MELT, the Berlin and LA Gay Prides, along with recent residencies at Arkaoda, Suicide Club, and Kit Kat Club in Berlin.
At the moment, Eric juggles DJ residencies in Germany and Croatia, managing his labels Subcurrent and Fardel, playing gigs around Europe and the USA, lending his vocal expertise and remixing score of dance tracks and designing EP covers. Cotemporary releases include Bored with Stefan Braatz on Poker Flat Recordings (supported by Richie Hawtin, Ame, and Joris Voorn), Daylight with Mouse on Mars plus a few live shows including at the Elbe Philharmonie and for the 10 years of Arte Concerts, and remixes of Walks by Doc Martin and Robot Love by Chicks on Speed, among many more. Eric's body of work review on the Musique Journal concluded is year 2019, and from 2020 to 2022 you can review multiple versatile releases from Eric: many solo  releases, a collaboration with Hans Nieswandt, Lee "Scratch" Perry, Fulu Miziki, a classical orchestra… and to finish 2022 in style, Eric, along his bandmates from Whirlpool Productions, received the Holger Czukay Prize career award and launched his IRL gallery space Upstairs At €rix in the metaverse. 2023 highlights are Eric presenting a composition at the Centre Pompidou, joining the Kampnagel festival, taking up his Croatia summer residency again, and starting a series of collabs with iconic publishing house Motto.
FACEBOOK     MIXCLOUD     BANDCAMP     TECH RIDER     IMAGES     BOOKING FORM