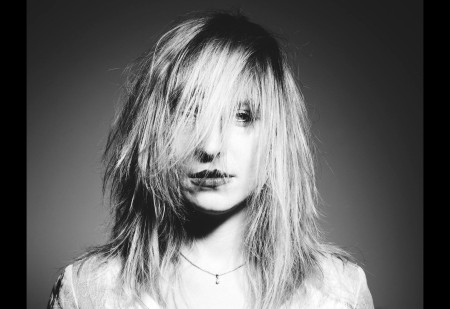 Sophie Gonthier spent a childhood of total artistic freedom, all the while listening to Gainsbourg and Dionne Warwick. A composer and a songwriter, she began playing with different bands, absorbing the patterns of sound around her.
Something in her voice calls for the blues, with its melancholic sensuality and rough strength. But it was the decision to move to Berlin that began to feed Anything Maria's genesis, soon to become Sophie's singing alter-ego. This period opened the door to dream collaborations with Nan Goldin for the Louvre Museum, Ernie Brooks from The Modern Lovers, Lee Ranaldo from Sonic Youth and Sabbath Assembly on their American tour. She then won the SFR Young Talents award in 2010, performing in front of over 6000 people at the Grand Palais in Paris and seeing her irresistible track Cook Him Up getting remixed by Yuksek.
After honing her skills between Berlin, New York and Seattle, Sophie's back in Paris recapturing the essence of her bluesy voice while combining her talent as a singer with her DJ skills, mixing and singing on her own releases, twisting and live-remixing the work of others with a touch of edgy electronic modernism. She's been putting her focus on an experimental new project, Catherin, while always pushing forward her key signature of juggled rhythms and grooves that make clubbers dance for hours on end.
Just this past summer, Catherin took part in the album MNR001 on the Parisian label Magie Noire, alongside artists like Brenn & César and ROMBO. Her track 'Spellbound'–a sensual mix of house and techno–managed to become the #1 most-downloaded track on iTunes over the summer.